You'll love Dr. Bruce Wintersteen's convenient location.
Our office is open Monday through Saturday, with hours that can accommodate most any schedule. We know that your time is important, and we work to ensure that your visit happens as quickly and professionally as possible.
Exceptional dental care is a lot closer than you think. Dr. Bruce Wintersteen's general dentistry and cosmetic dentistry practice in Monticello, IL is easily accessible to patients throughout the area. Our great location, convenient office hours and friendly staff make every visit to Dr. Bruce Wintersteen a pleasant experience. Remember, you don't have to travel far to get the quality care you deserve.
Location
Monticello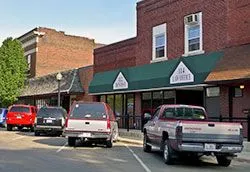 Address
112 E. Washington St.
Monticello, IL 61856
Phone
Office: (217) 762-4366
Fax: (217) 762-5143
Email
[email protected]
Office Hours
Monday 8:00am - 6:00pm
Tuesday 8:00am - 8:00pm
Wednesday 8:00am - 6:00pm
Friday 8:00am - 5:00pm
Saturday 8:00am - 1:00pm
In case of an emergency:
Dental emergencies are never convenient or timely. If you are a current patient, and have a dental emergency after regular office hours, please call the office for options to reach the doctor.